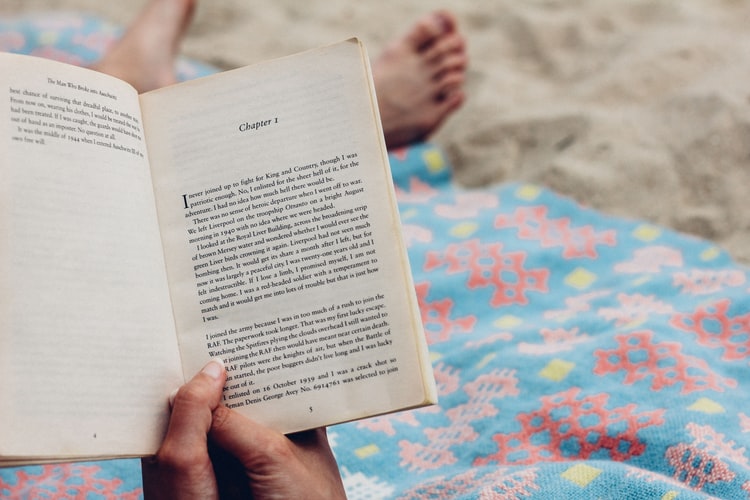 Are you in the process of planning and packing for your next beach holiday? May we remind you to pack your swimming costume, sunscreen... and that all important beach read, of course!
We've rounded up a selection of our favourite beach reads - read our reviews and take your pick! (And don't forget to leave a comment sharing your favourite book!)
Grown Ups by Marian Keyes (R220)
The latest book from international best-selling author, Marian Keyes, revolves around the Caseys, a large, Irish family who love a good excuse to get together, be it for an anniversary, birthdays, or the holidays. The Casey brothers, Johnny, Ed, and Liam seem close enough, and their wives all appear to get along - like one big, happy family. Or is it Resentments fester under the surface in this hilarious book that willl have you reading well into the wee hours. Available at your nearest Exclusive Books.
A Long Petal of the Sea by Isabel Allende (R282)
This Sunday Times bestseller has been described as "one of the strongest and most affecting works in Allende's long career" by The New York Times Book Review, which says it all! Victor Dalmau is a young doctor during the Spanish Civil War - a tragedy that leaves his life (and the fate of his country) forever changed. Together with his sister-in-law, Roser, he is forced out of his beloved Barcelona and into exile. When opportunity to seek refuge arises, they board a ship chartered by the poet Pablo Neruda to Chile, the promised long petal of sea and wine and snow. There, they find themselves enmeshed in a rich web of characters who come together in love and tragedy over the course of four generations, destined to witness the battle between freedom and repression as it plays out across the world.
The Last Voyage of Mrs Henry Parker by Joanne Nel (R333)
As the wife of retired ship's doctor Dr Henry Parker, Evelyn is living out her twilight years aboard the Golden Sunset. Every night she dresses for dinner tells her fellow passengers stories of a glamorous life spent travelling the world in luxury. When retired ship doctor Henry goes missing, his glamorous wife Evelyn sets off and searches every nook and cranny of the grand ocean liner the Golden Sunset to find him. Misadventures are had, new friends are made, and scandalous behaviour noted - all news to Evelyn. If only she could remember the events of the night before as clearly as she can recall the first time she met Henry back in 1953, abandoning her dreams of becoming a midwife to be a wife instead . Why is it so hard to forget some things and so hard to remember others? And where is Henry?
The Pact by Amy Heydenrych (R185)
A gripping and chilling suspense novel by esteemed South African author, Amy Heydenrych. When Freya arrives at her dream job at the city's hottest start-up, she can't wait to begin her new and exciting life - including dating her new colleague, Jay. However, fellow employee and Jay's ex, Nicole, seems intent on making Freya's life a misery. After a big deadline, where Nicole continually picks on her, Freya snaps and tells Jay about the bullying and together they concoct a revenge prank. The next morning, Nicole is found dead in her apartment . . . Is this just a prank gone wrong Or does Freya know someone who is capable of murder - and could she be next